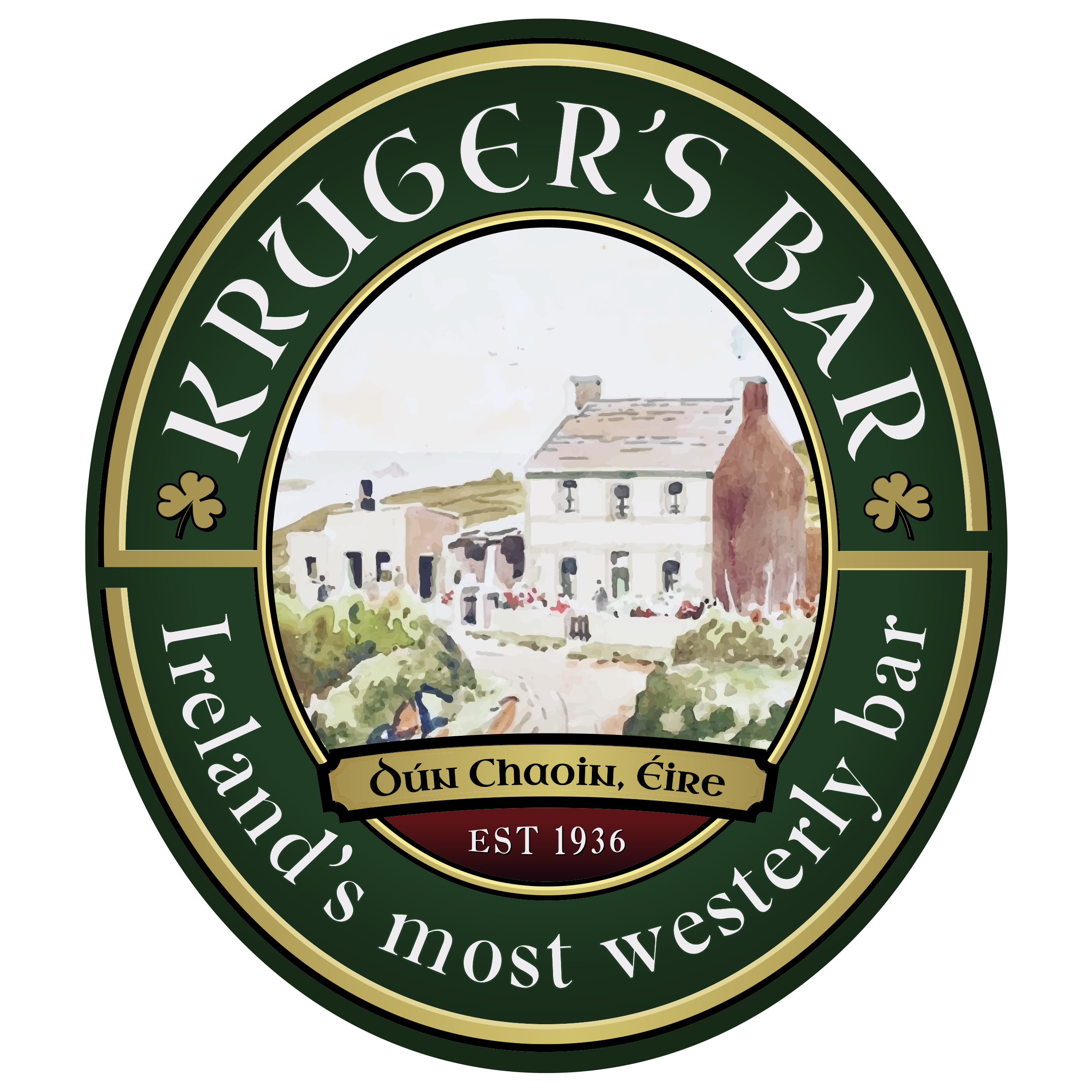 World Famous | Ireland's Most Westerly Bar
Warm and Welcoming Atmosphere | Craic & Ceol!
Tigh Khruger
Krugers Bar in Dunquin is a popular traditional Irish pub located in the heart of the Dingle Peninsula. With its warm and welcoming atmosphere, Krugers Bar offers a unique experience to locals and tourists alike. The bar is known for its lively music sessions, delicious food, and wide selection of drinks, including local brews and Irish whiskey. With stunning views of the Atlantic Ocean and the Blasket Islands, Krugers Bar is a must-visit destination for anyone looking to experience authentic Irish hospitality and culture.
Ryan's Daughter
Krugers Bar is known for its association with the film industry. The bar was featured in the 1970 movie "Ryan's Daughter," directed by David Lean, and starring Robert Mitchum. The movie helped to put Dunquin and the Dingle Peninsula on the map, making it a popular tourist destination.

Stunning Views of the Blasket Islands
Whether you're looking to relax with a pint of local craft beer, dance the night away to some traditional Irish music, or simply catch up with friends, Krugers has got you covered.
Looking for a unique Irish pub experience?

Look no further than Krugers Bar in Dunquin. Krugers pub has been serving customers for generations, offering a warm and welcoming atmosphere that combines the best of Irish hospitality, music, and culture. With stunning views of the Atlantic Ocean and the Blasket Islands, Krugers Bar is the perfect destination for tourists and locals alike. Come and enjoy our delicious food, wide selection of drinks, and lively music sessions. Visit us today and experience the authentic spirit of Ireland at Krugers Bar in Dunquin.
🌟 Beyond the Bar: At Krugers, we're more than just a bar. Our establishment is nestled in the breathtaking surroundings of Dunquin, offering stunning views and a unique ambiance that enhances your visit. Whether you're exploring the area's natural beauty or enjoying a relaxing drink with friends, our location adds an extra touch of magic to your experience.
🍹 Drinks Galore
Indulge in our wide selection of refreshing beverages, from ice-cold beers to handcrafted cocktails and everything in between. Our skilled bartenders are ready to craft your favorite drink or surprise you with a new and exciting concoction.
🍔 Delectable Food
Hungry? We've got you covered! Our talented chefs prepare mouthwatering dishes that will satisfy any craving. From savory snacks to hearty burgers and tantalizing seafood, our menu offers something for everyone. Whether you're in the mood for a quick bite or a full-blown feast, Krugers Bar has the perfect dish for you.
👨‍👩‍👧‍👦 Group-Friendly
Planning a get-together with friends or family? Look no further! Krugers Bar is the ideal spot for group gatherings. With spacious seating areas and a warm, welcoming atmosphere, we ensure everyone feels comfortable and has a great time together.
🎉 Unforgettable Events
Celebrating a special occasion? We've got you covered! From birthdays and anniversaries to hens and stags, our team will go the extra mile to make your event memorable. Our dedicated staff will work closely with you to tailor every aspect to your needs, ensuring a truly unforgettable experience for you and your guests.